20 REASONS TO CHOOSE COVER STYL'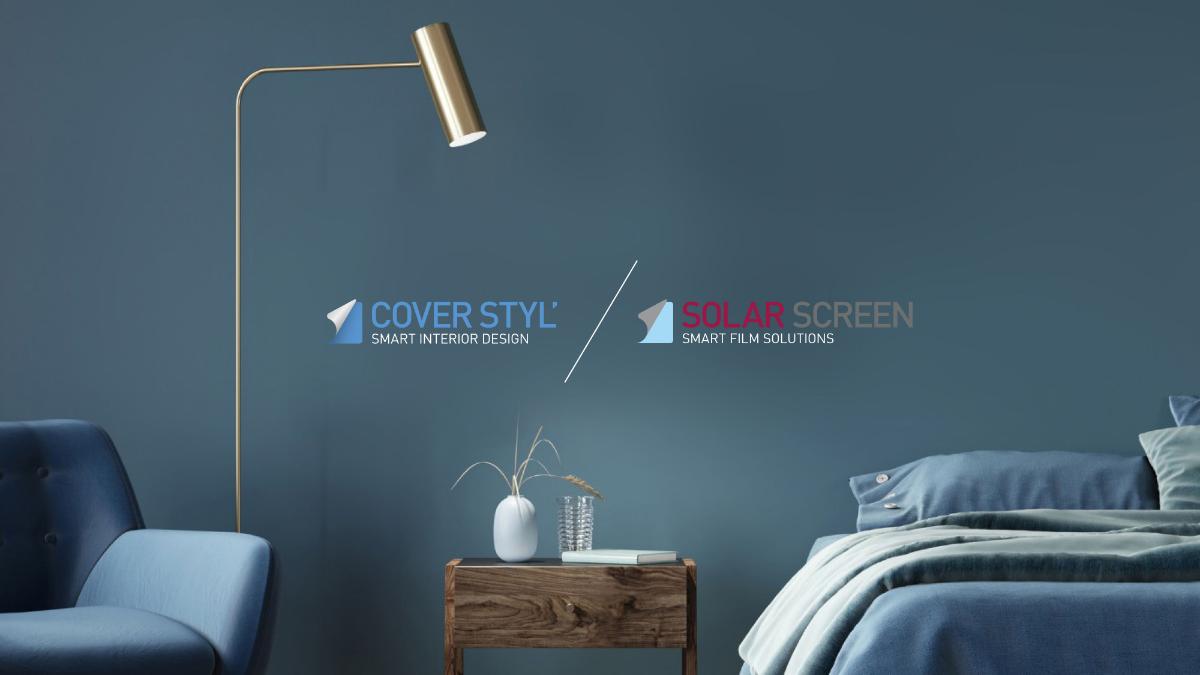 Expand your business offering with Cover Styl' architectural finishes. In the design and refurbishment sector, inspiration and energy are key. That's why you should consider a new way of thinking, using the right product means it can be easy, affordable and fun. With Cover Styl' every surface becomes an opportunity. Think about how many potential projects you could wrap for your customers. From architects to property owners, to interior designers and more. The combination of cost savings and aesthetics Cover Styl' presents will interest your connections. That's a promise. We help you to rehabilitate any space quickly, trendy, and in an economical way. Think your customers may struggle to visualise how Cover Styl' will work? Don't worry. We can also provide you with a mobile App that shows you how your interiors will look once refreshed with Cover Styl'.
We've teased enough. Let's get into exactly why Cover Styl' is designed to provide you with the perfect solution for refurbishment and design projects for all kinds of interior environments! From residential buildings, in apartments, houses, offices, to commercial buildings in hospitality, events, retail, marine and so many more places.
Here are the many reasons why our clients choose Cover Styl' every time.
1. Choice of 470 references
With over 470 patterns at your fingertips, Cover Styl' comes in a variety of finishes that can cater to your customers' every need. Whether it's wood, solid colour, marble, fabric, glitter, and even soft touch. Our range of architectural films really can meet the demands of any design objective. Perfect for refurbishments of hotel bedrooms, kitchens, bathrooms, lounges, office spaces, and hospitals.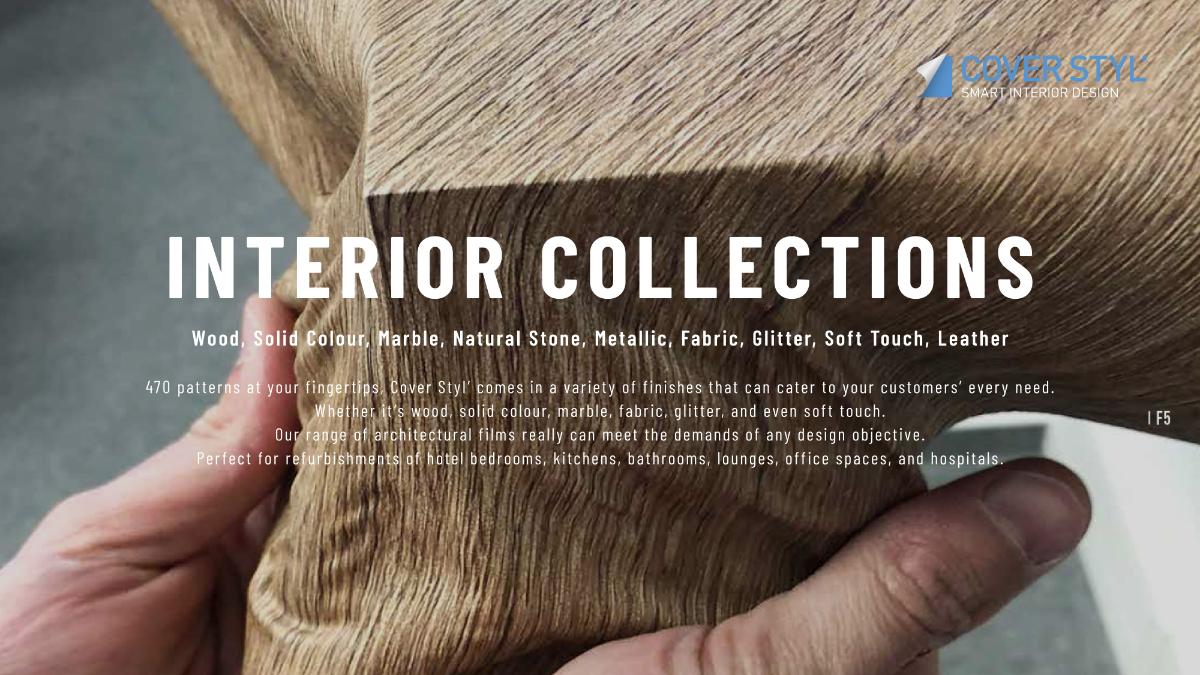 2. Over 10,000 new rolls in stock
We fully understand the importance of stocking: our stock ensures you that we have enough material and we can react fast to your inquiries and orders – no matter the size. Plus, we have a great warehouse flow so our products are never kept for more than 3 years in stock. So you don't have to worry about the quality of our products. We are constantly renewing our stock, which means you can be assured of a product that is fit for purpose – no more fragile, brittle or shrinking material. Can all suppliers say the same?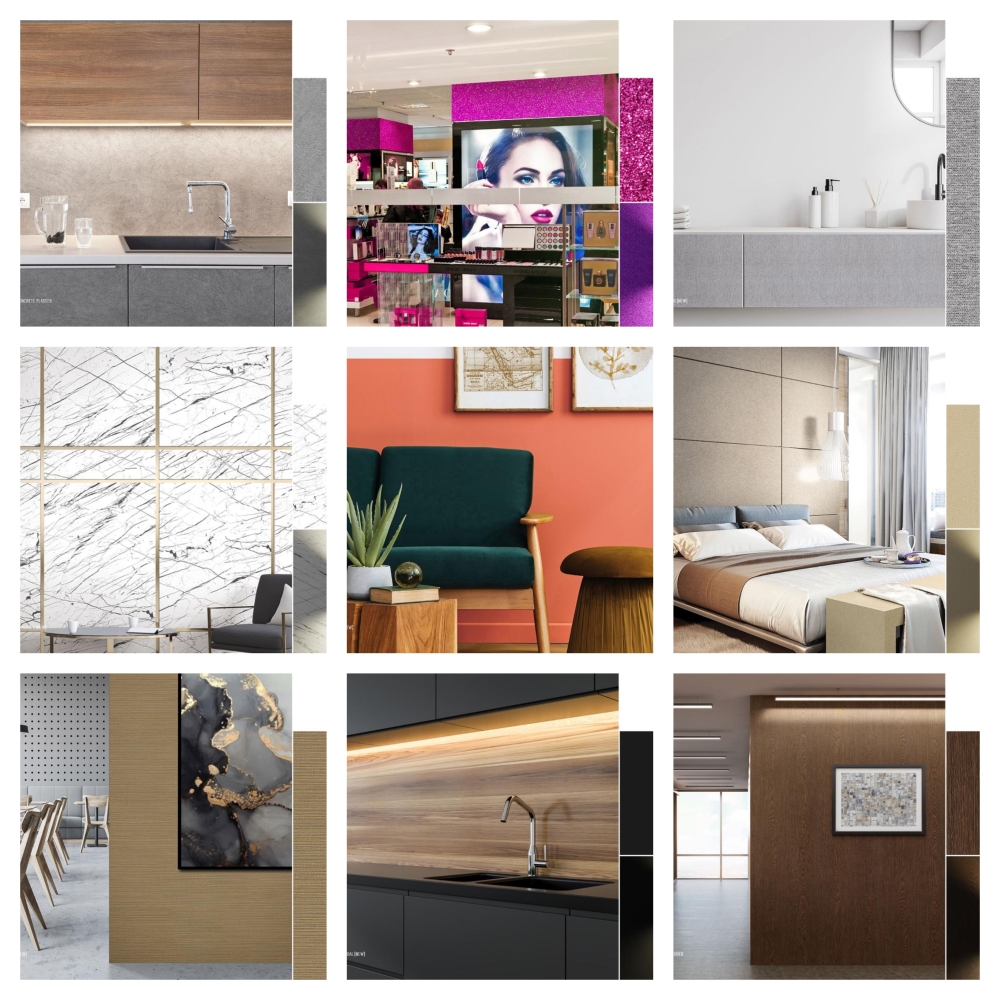 3. Low minimum order quantity
And we're flexible too! We don't force you to buy an entire roll when you only need a few meters. We can take that headache away from you and we can help. We don't want to sell you what you don't need: this is not in our DNA. You're the boss. You're in control of what you need when you need it for our projects and clients.
4. grant.t@jetmark.com.au : Grant Trevena
Grant Trevena is our Architectural consultant at Jetmark, he specialises in specifying and advising on luxury designer vinyl and window films into the construction sector. Grant has over 30 years' consulting experience in product specifications with Interior designers, combined with his experience living overseas in Hawaii for 3 years. Grant has the ability to connect with clients in the specification market, and has a clear understanding of the specification cycle, with the ability to follow projects to completion.
5. Helping you to win those projects
We're with you every step of the way. Fearful of questions you may be get asked around Cover Styl'? Or perhaps your customers are not quite sold on what you have presented? Again, don't be scared to get in touch. We can help with training, webinars and more. Whether it's project specific advice you need or collateral that will help really sell that before and after application to your client. We're here for you to help your business to grow with us.
6. Training Centre for technical and sales techniques
Did you know we're a Training Academy too? Well, you do now. Giving you the best tips and tricks for using our products, we're happy to share our knowledge. Whatever the training requirement. We can provide it. Whether it's hands-on training you need, technical questions or sales techniques. We have the training course for you. Remember. We are here to help! Last but not least, we also have certifications from our sector and our clients to encourage and assist you.
7. Trusted and approved by leading brands
It's proven. If it's good enough for Accor and other hotel brands it's good enough for your clients. The brand demands are strict to match with their values to be able to offer the very best to their customers too. Accor trusts Cover Styl' and we're proud to be part of that journey. It's really as simple as that.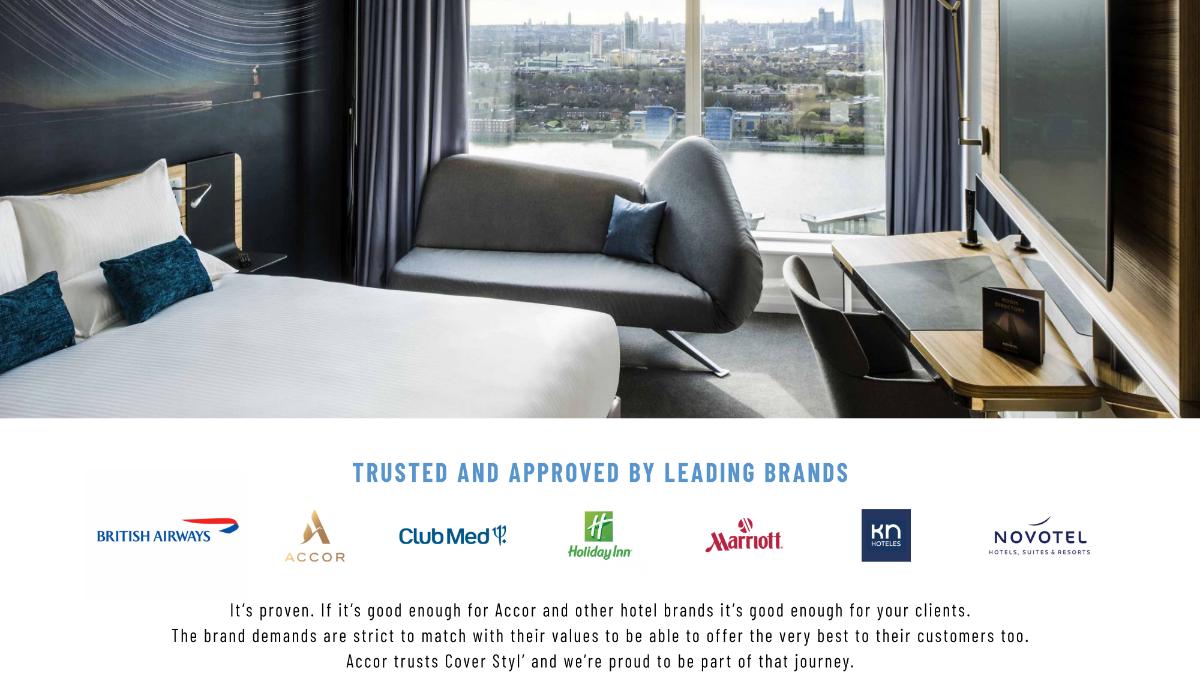 8. Certified in multiple standards
Cover Styl' is certified too. For better peace of mind. Certifications are important to us: it indicates that we meet a certain standard of competence. Cover Styl' is certified in at least 10 standards: water tested, fire tested, anti-bacterial tested, abrasion tested, stain tested, conform within the maritime regulations in safety, security, and protection, CE marketing certified, Reach certified, conform with indoor air quality and conform within regulations in safety and protection.
9. 10 years warranty
One of our priorities is our top quality and sustainability. Therefore, we offer 10 years warranty on our Cover Styl' interior products. We stand for high-performance solutions to give you maximum possible benefits from technical and economical points of view.
10. Limitless marketing material
We have all types of marketing support you can use for growing your sales. We provide limitless collateral such as brochures, social media posts, newsletters, images and visuals, packaging, product guides, videos, flyers, and we even create websites for our clients too. You name it, we have it. Providing you with the perfect foundation to start an architectural film business.
11. FOC Sample service
Your customers are going to want to see, touch and feel the product before they make a purchase, aren't they? Well. You've come to the right place! Our free A5 size samples allow people to test the product and its effectiveness before making a purchase decision. How can you get a free sample? Send us an email at  info@coverstyl.com.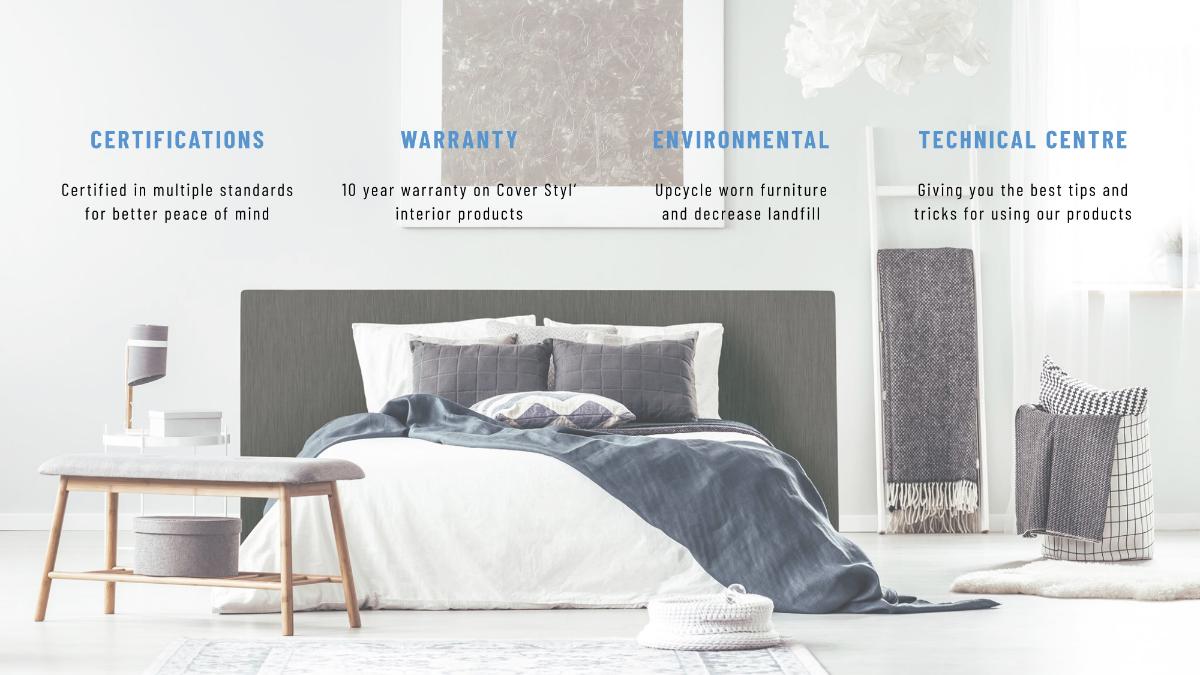 12. Customisation of most of our marketing materials
Make your marketing your own too. Marketing materials and content are essential to keep your business at the top of your clients minds. Our marketing collateral can be customised with your logo. These marketing materials are going to be a direct reflection of your company. With our help, you'll have all you need in regards to your own personalised marketing.
13. Multiple true case studies based on more than 8 years of experience
Cover Styl works. And we can prove it. We know that in our sector our competitors do use photoshop to showcase their product and their achievements. Your customers may have concerns with using architectural film. You can ease those concerns. We have true case studies that are based on our own experience and the experience of our network. Real installation, delivery, and accomplished projects. Just ask!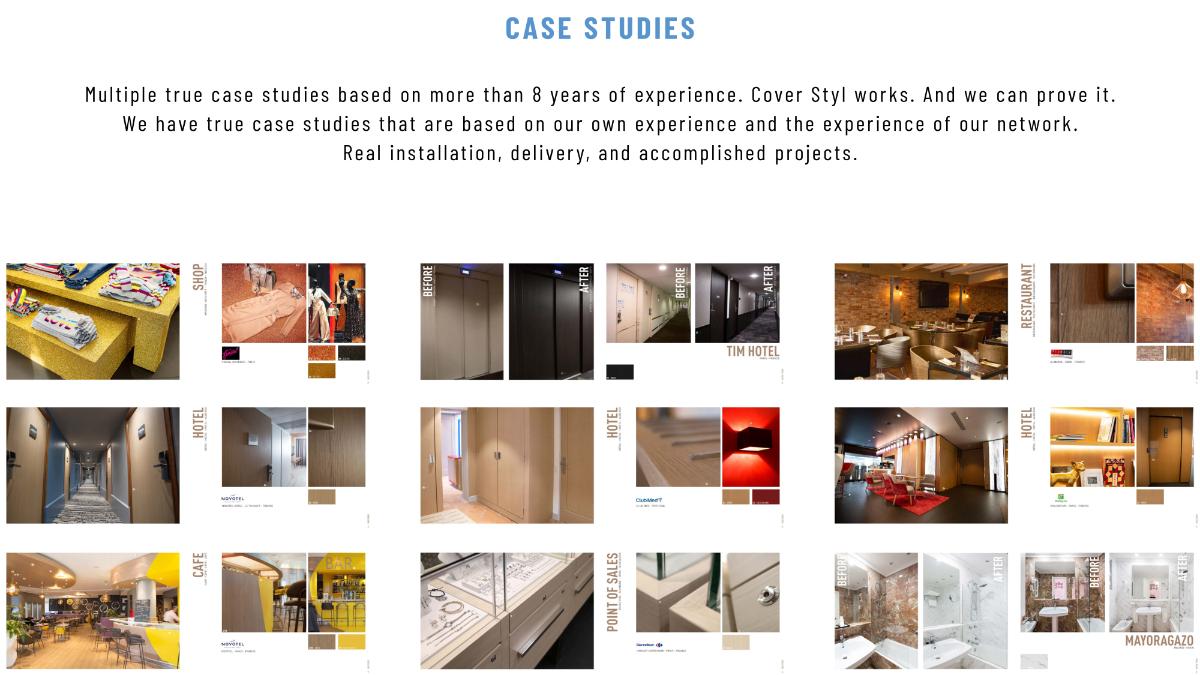 14. High-end image on social networks: Pinterest, Instagram & YouTube
Our marketing team has a clear digital marketing and social media strategy, with regular posts and content. See years of really useful content for yourself on our Pinterest and Instagram pages, as well as our YouTube channel. And it's not just you who should visit these platforms. Direct your clients there too! They will be able to see for themselves what is possible in architectural film.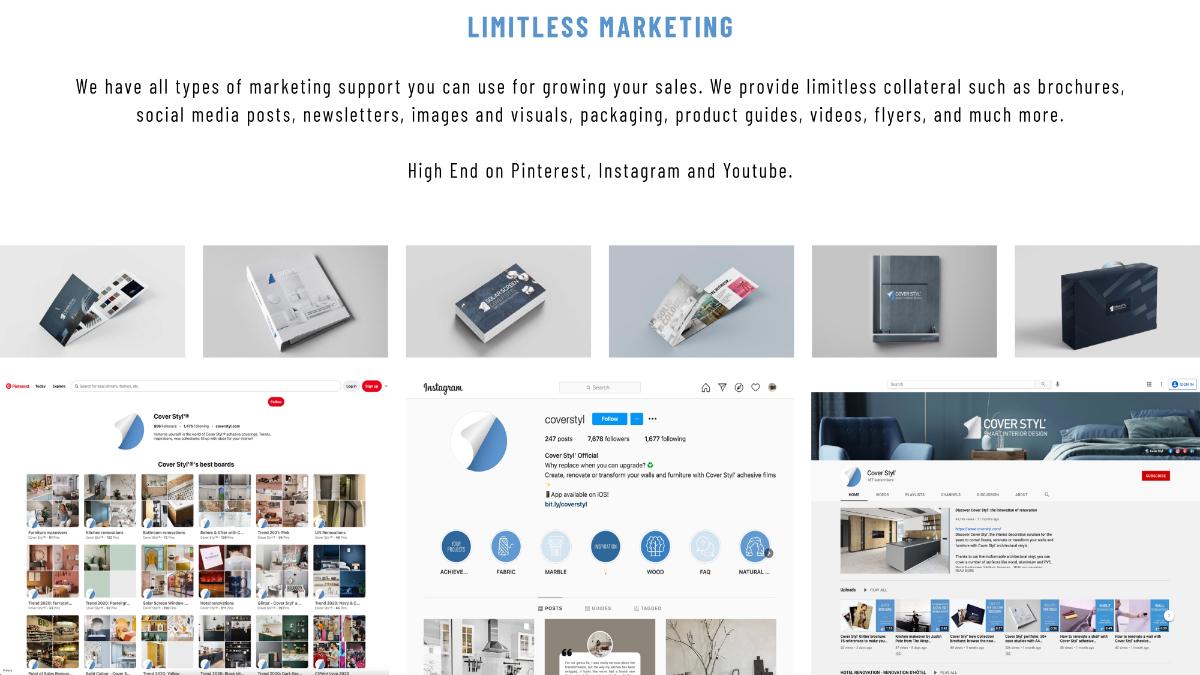 15. Worldwide certified network
Our presence is all over the world. Cover Styl' is proven everywhere. Thanks to our on-site training, online training, webinars since COVID19, and our training center, we have top Cover Styl' installers and professionals all around the world: from Europe to South Africa, Colombia, Canada, Australia, New Zealand, and much more.
16. Competitive pricing
We are very attentive to our sector and our competitors and we know that we provide the best product quality at the best price. Our mission goes beyond pricing. We don't want our client to pay more for the same or less quality. What's important to us is that you can buy and sell a product that is in fashion, sustainable and excellent. Our mission is yours. We want you to win projects ahead of traditional refurbishment methods. Our pricing will allow you to do this.
17. Stable regularly updated range - every 2-3 years
Our product range is unrivaled. It's important to us to find the right balance between refreshing and performing. With that in mind, we update our range every 2-3 years. And your needs are top of our priority list when it comes to this. We are driven to deliver a product portfolio that is both varied and on trend. Allowing you to meet the demands of every project. When new product lines are added, our goal is a smooth transition, and we keep stock to help you.
18. Service is key in your own language
We may be global, but we can make you feel at home. Our dynamic sales and committed marketing team are on hand to help in your own language. This is a big and strong part of our DNA.
19. Large projects where you need a special pattern – We can create it!
Whatever the design requirement. We can match it. If you have big projects or special requests such as customisation of a pattern or a new creative design: we can create it for you! We are flexible for your business needs. Once a client asked us for a textured film that our competitors offer and guess what? We delivered it faster.
20. Cover Styl' Application for mobile phone
With Cover Styl' application, you will be able to discover the many products in our collection and try them directly at home, on your walls or furniture, thanks to augmented reality.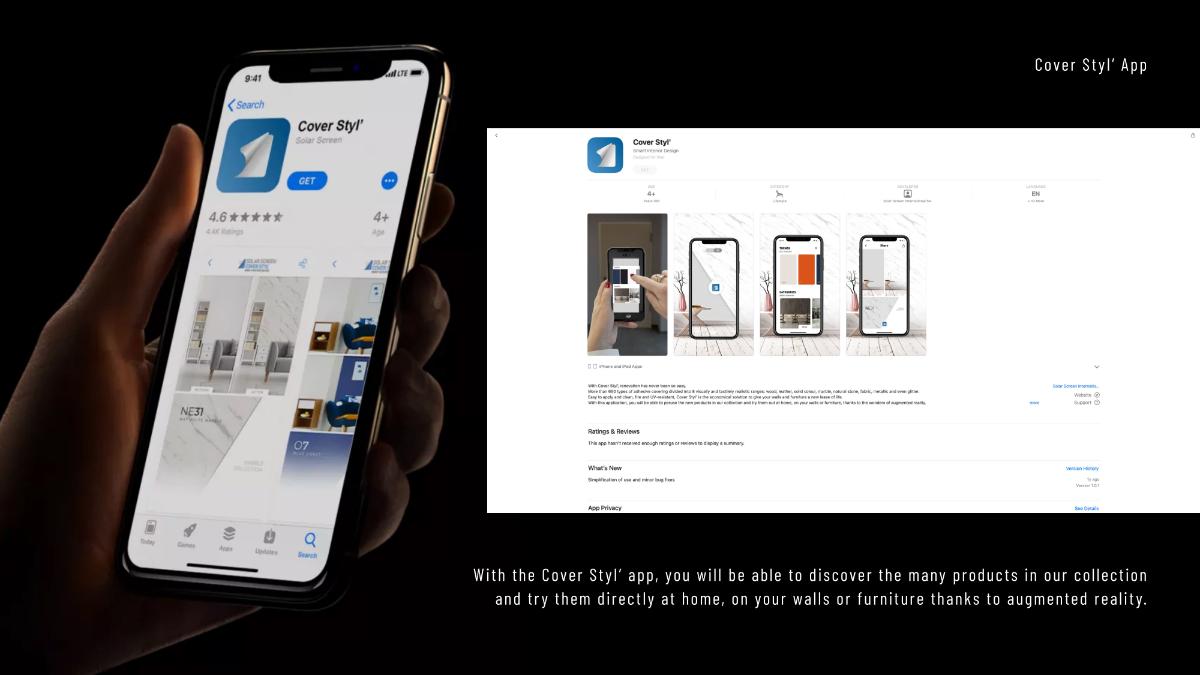 YOU HAVE A PROJECT?
We are here to support you carrying out your project.
PRIVATE
COMPANY
FILM INSTALLER